---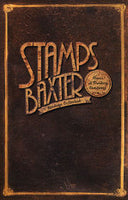 Songbook featuring songs with shaped notes from the large Stamps Baxter publishing catalog, as well as historic Gospel music information.
(Shaped notes, glue bound, soft cover, 5 3/8 x 8 3/8 size.)

Song Titles:

After The Sunrise
Alone In The Garden
Crown Him King
Do Right And Come Smiling Thru
Farther Along
Gettin' Ready To Leave This World
Give The World A Smile
God Is Great Good And Merciful
God Shall Wipe Away All Tears
Hand In Hand With Jesus
He Is Mine And I Am His
He Set Me Free (Brumley)
He Set Me Free (Fulkerson/Bohannon)
Heaven's Really Gonna Shine
He's A Wonderful Savior
Higher
I Love To Tell Of His Love
I'd Rather Have Jesus
I'll Go Over Jordan Some Day
I'll Have A New Life
I'll Meet You By The River
I'm Glad I Settled The Question
I'm Gonna Stay On The Jericho Road
I'm Happy Today
I'm Living In Canaan Now
I'm Telling The World About His Love
I'm Traveling Homeward
I'm Winging My Way Back Home
In The Days Of Noah
In The Sweet Forever
It's Shouting Time In Heaven
I've Got That Old Time Religion In My Heart
I've Never Been Sorry
Just A Little Talk With Jesus
Look On The Brighter Side
Lord I Want To Make It Up There
My Burdens Have Rolled Away
Never Say Goodbye
O It Thrills Me
O The Glory Did Roll
Precious Memories
Rocked On The Deep
Sing Me A Song About Jesus
Singing Above The Cloud
Some Morning Fair
Standing By The River
Sunset Is Coming But The Sunrise We'll See
Sweeter Each Day
The Lord Is With Me
The Sunlight Of Love
The Sweetest Song I Know
There's Gonna Be Shouting And Singing
This Pentecost Love
Turn Your Radio On
Twilight Shadows Are Falling
Waiting For His Return
We'll Meet A Lot Of Friends And Neighbors
We'll Soon Be Done With Troubles And Trials
When All Of God's Singers Get Home
When He Blest My Soul
When I Reach Home
When I Wake Up To Sleep No More
When They Ring The Bells Of Heaven
When We Sing Around The Throne Eternal
Where Could I Go
Won't We Be Happy

Also, History of Stamps-Baxter Music and Songbook Covers And Pictures.

Released in 2015.