---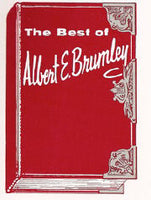 The songs contained in this book are generally believed to represent the best of more than 600 Brumley songs. (Shaped notes. Glue bound, soft cover, 5 x 8 size, 100 songs.)

Song Titles:

As I Go Traveling On
Blessed Jesus Loves You Too
Cabin In The Valley Of The Pines
Camping In Canaan's Land
Dear Mother She's Gone
Did You Ever Go Sailin'
Dreaming Of A Little Cabin
Far-Away Places
Flowers In The Wildwood
Go Right Out
God's Gentle People
God's Pretty Bouquet
He Set Me Free
Heaven's Really Gonna Shine
Her Mansion Is Higher Than Mine
Here's My Heart-Here's My Hand
Honest And Truly Lord
How I'd Like To Be
I Am Just A Pilgrim
I Believe In The Lord
I Can Hear Them Singing Over There
I Cannot Find The Way Alone
I Couldn't Begin To Tell You
I Dreamed I Met Mother And Daddy
I Firmly Promise You
I Guess I'm Just A Little Old Fashioned
I Just Steal Away And Pray
I Looked All Over Heaven
I Walk Alone Except For God
I Walk In The New Jerusalem Way
I Want To Meet You In The Sweet By And By
I Want To Walk Just As Close As I Can
I Will Wear A Rose
I'd Like To Go Back
I'd Rather Be An Old-Time Christian
I'd Rather Live By The Side Of The Road
I'll Be All Right On Heaven's Shore
I'll Fly Away
I'll Meet You By The River
I'll Meet You In The Morning
I'll Sail Away Home Some Sweet Day
I'm As Poor As A Beggar
I'm A Private In The Army Of The Lord
I'm Bound For That City
I'm Bound For The Land Of Canaan
I'm Just A Stranger Here
I've Found A Hiding Place
I've Never Been Sorry
If Everybody Had A Heartfull Of Love
If We Never Meet Again
Is There Anybody Here That Never Knew
It's An Unfriendly World
It's Bound To Be The Lord
It's Really Surprising
It's Twilight Time Again
Jesus Hold My Hand
Jesus Knows Everything In Your Heart
Just Go To Jesus
Keep Me Close To Thy Heart
Led By The Master's Hand
Lord I Cannot Walk Alone
May We Meet Again
My Closest Kin
Never To Say Good-by
No Place To Hide
Nobody Answered Me
Rank Strangers To Me
Ride On God's Careworn Children
Salvation Has Been Brought Down
Since I Put My Feet On The Solid Ground
Some Sweet Happy Day
Somebody's Been Praying For Me
Sometimes It's Hard To Understand
Stop And Tell Somebody Today
Surely I Will Lord
Thank God It's Different Now
That Old Country Chapel
That Old-Time Preacher Man
That's Why I'm Praying For You
The Blood That Stained The Old Rugged Cross
The Old Village Church On The Hill
The Prettiest Flowers Will Be Blooming
The Rest Of My Life
The World's Greatest Story
There Is Strength In The Lord
There's A Light In Happy Hollow
There's A Little Pine Log Cabin
They'll Welcome Me Back Home
They're Having A Big Revival
This World Is Not My Home
Turn Your Radio On
We'll Meet A Lot Of Friends And Neighbors
When I Look On His Kind Smiling Face
When I Looked Up And He Looked Down
When I Thank Him For What He Has Done
When We Sing Around The Throne Eternal
Will It Do Precious Lord
Will These Tears Turn To Stars
Will My Mansion Seem Just Like The Old
You Can Still Find A Friend In The Lord

Copyright 1966.