---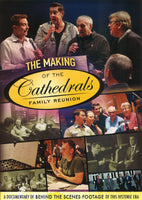 Sale
The making of the "Cathedrals Family Reunion" was truly remarkable. What originated as a single idea to finally get the guys all together for a reunion concert led the way to the making of a new CD and DVD. Countless hours of video footage has been pulled from the vault and the creation of an entirely new brand, now known as the "Cathedrals Family Reunion," is the result. Landon Beene, the Executive Producer of the event, agreed to have the entire process documented from the infant stages of selecting the songs for the CD all the way to the planning and execution of the first reunion concert. "Good Morning Dallas," a live TV show, also followed the five Cathedrals alumni on a little shopping trip to the stockyard streets of Fort Worth and this footage is included as well. So, sit back and enjoy a behind the scenes look into the making of the "Cathedrals Family Reunion!"
Part 1: Opening
Part 2: Looking at the Past
Part 3: Let's Get Together
Part 4: In the Studio
Part 5: Orchestration Session
Part 6: Recording Vocals Together
Part 7: Setting the Stage
Part 8: Rehearsal
Part 9: Live Sound Check (Unedited)
Part 10: Memories and Memorabilia
Part 11: Who Has a Mustache?
Part 12: Road Stories and Highlight Reel
Part 13: Jesus Asked Me?
Part 14: The Concert Starts
Part 15: A Business Perspective
Part 16: We Thought It Was The End
Released in 2014.