---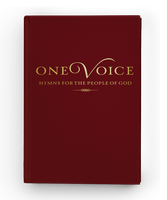 Product Description
The new hymnal "One Voice – Hymns for the People of God" is a masterwork collection of the most beloved hymns and gospel songs of yesterday and today. Special attention has been given to the physical aspects of this hymnal. Font sizes are as large as possible in a pew size hymnal; high quality white opaque paper; binding is "smythe sewn" (the finest method of binding); linen textured Kivar cover guarantees years of service; the hymnal is light and comfortable to hold.
About One Voice – Hymns for the People of God
The "One Voice Hymnal Collection" is a curated treasure of 234 of the most well known and beloved hymns and gospel songs of our Christian faith. The collection was envisioned and created by Tom Fettke and Johnny Hall to encourage God's people to come together, in large or small groups, and worship Him in song.  The 234 hymns and gospel songs in the One Voice Hymnal are a masterful blend of beloved songs that have stood the test of time and a generous selection of current hymns, written by writers like Keith Getty, Stuart Townend, Ken Bible, Michael W. Smith, Twila Paris, Martin Nystrom, and many others.  Scripture readings are also included throughout the hymnal along with inspiring quotes from some of the greatest leaders in church history. These encourage a spirit of devotion in corporate and individual use.
For the full song list in alphabetical order, CLICK HERE.