---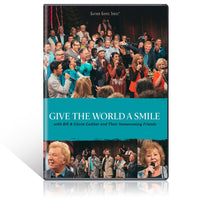 Timeless favorites from the Gospel music industry's finest veterans, as well as a new generation of artists.
Song Titles:
There Is Power In The Blood
(Angela Primm)
Give The World A Smile
I Just Can't Make It By Myself
(Nelons)
Child Of The King
(Gene McDonald, Mike Allen)
I've Got That Old Time Religion In My Heart
(Stan Whitmire)
Close To Thee
(Reggie & Ladye Love Smith, Joyce Martin Sanders, Angela Primm, Amber Nelon Clark, Wesley Pritchard)
Working On A Building
(Gaither Vocal Band)
Happy Rhythm
(Gaither Vocal Band, Colet Selwyn)
This Ole House
(Colet Selwyn)
Love At Home
(Kim Hopper, Joyce Martin Sanders, Shane McConnell)
Mary Don't You Weep
(Martin Family Circus)
In The Sweet Forever
Leave It There
(Bradley Walker)
I See A Crimson Stream
(Jim Brady Trio)
Yours Amen
(Isaacs)
Revive Us Again
(Buddy Greene, Reggie Smith, Charlotte Ritchie)
On The Banks Of The Promised Land
(Karen Peck & New River)
How Beautiful Heaven Must Be
(Mitchel Jon)
Love Is The Golden Rule
(Gordon Mote)
Does Jesus Care
(Ben Isaacs, Mark Lowry, Bill Gaither, Russ Taff, Jim Murray, Buddy Mullins)
Sinner Saved By Grace
(Gene McDonald, Adam Crabb)
Pass Me Not O Gentle Savior
(Lynda Randle, Michael English)
Release Date: February 24, 2017.
Gaither Homecoming - "Sweeter As The Days Go By" & "Give The World A Smile"
"Give The World A Smile" and "Sweeter As The Days Go By" take fans back to where it all began, as they were filmed at the famous Gaither Studio C at the company's home base in Alexandria, Indiana. The two new releases feature over 125 members of the Homecoming family of artists, led by Bill and Gloria Gaither, enjoying an evening together of Gospel singing, storytelling and a celebration of lifelong friendships.
Gospel music fans will enjoy performances by the award-winning Oak Ridge Boys, the Gatlin Brothers, Jeff & Sheri Easter, the Booth Brothers, Russ Taff, Goodman Revival, the Gaither Vocal Band, Mark Lowry, Lynda Randle, David Phelps, the Isaacs, the Hoppers and more. Performances from up-and-coming artists, including Bradley Walker, the Martin Family Circus and others, added to the excitement in this room of veteran performers.
Legendary singer, songwriter and the brand's founder Bill Gaither stated, "Several years had passed since we gathered the Homecoming family together in our hometown studio, so at last we were able to get the family together again and reignite the great memories we have shared over the years. What an incredible time it was! These new programs truly capture the spirit of those early gatherings that first started the Homecoming series. One powerful moment flowed into the next as we reminisced together and joined our voices to sing our favorite songs."
"It's been over six years since we had this many of our family of artists in one room to sing together," stated Paul Sizelove, vice president of Gaither Music Group. "Recording in the home studio brought back many special memories from years gone by, and it's always good to see the camaraderie among these artists and experience the special moments when they join together in song."
Those songs include timeless favorites such as "There Is Power In The Blood," "Working On A Building," "Sinner Saved By Grace," "Child Of The King," "Holy Spirit, Thou Art Welcome," "It Is No Secret," "We'll Talk It Over," "Roses Will Bloom Again," the title tracks and more. Enjoy watching the Gaither Homecoming family on these new DVDs, or enjoy their classic sound on the CD versions of "Give The World A Smile" and "Sweeter As The Days Go By."
(Adapted from Press Release)