---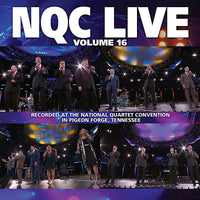 Recorded live at the 2016 National Quartet Convention in Pigeon Forge, TN.


Song Titles:
Battle Cry – Kingsmen
I Have An Anchor – Jim Brady Trio
Jesus The One – Hoppers
Touch Of The Master's Hand – Booth Brothers
After All This Time – Talleys
The Beauty Of The Blood – Joseph Habedank
When The Trumpet Sounds – Triumphant
Put Out The Fire – Greater Vision
Everybody's Going Through Something – Karen Peck & New River
My Faith Still Holds – Mark Trammell Quartet
That What The Bible Says – Collingsworth Family
Saving Us A Place In The Choir – Kingdom Heirs
Can You Burn – 11th Hour
Get Away Jordan – Ernie Haase & Signature Sound
Bonus Features:
Music. Music. Music.
Showcase Highlight: Trey Ivey
SGMA Hall Of Fame Inductions: Peg McKamey Bean, Carroll McGruder, Lari Goss, Ronny Hinson.
Still Laughing with Dennis Swanberg

Release Date: February 10, 2017.
NQC LIVE VOLUME 16

Each year, the National Quartet Convention is host to the greatest groups in Southern Gospel Music. Recorded at the 2016 National Quartet Convention in Pigeon Forge, Tennessee, "NQC Live Volume 16" captures some of the best performances from the Main Stage, providing an up- close and personal look at these amazing presentations.

Appearances by top groups like the Kingsmen, Greater Vision, Karen Peck and New River, and more make this a must-see event. Unforgettable songs performed live like "That's What The Bible Says" by the Collingworth Family, "Can You Burn" by 11th Hour and "Touch Of The Master's Hand" by the Booth Brothers highlight the best that today's Southern Gospel music has to offer.

Along with these great songs are an assortment of terrific bonus features including "Still Laughing" with Dennis Swanburg as well as the SGMA Hall of Fame inductions of Peg McKamey Bean, Carroll McGruder, Lari Goss and Ronny Hinson. To experience all the excitement of the main stage at the National Quartet Convention, enjoy this sensational recording of "NQC Live Volume 16." (DVD and CD set.)

(Review by Springside)