---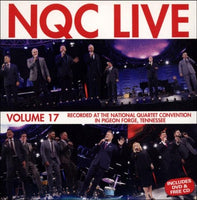 Recorded live at the 2017 National Quartet Convention in Pigeon Forge, TN.


Song Titles:
I Wouldn't Take Nothing For My Journey Now – Mark Trammell Quartet
You Can Depend On Jesus – Jim Brady Trio
Somebody Died For Me – Triumphant
The People In The Line – Talleys
Life Is Good – Hoppers
Jesus Changed Everything – Ernie Haase & Signature Sound
Here He Comes – Joseph Habedank
Never Made A Promise – Kingdom Heirs
At Calvary - Collingsworth Family
Amen – Three Bridges
One Way One Name One Door – Down East Boys
When Grandpa Sang Amazing Grace – Nelons
Still – Greater Vision
Ain't No Bones – 11th Hour
Bonus DVD-only features:
NQC 60th Anniversary Reunions:
Squire Parsons & The Kingsmen - Old Ship Of Zion
Gold City – When He Calls I'll Fly Away
Perrys - I Wish I Could Have Been There

A Time To Smile: Featuring Aaron Wilburn & The 2017 Highlights.

NQC :60 For 60: Classic moments from Rex Nelon, Wendy Bagwell, JD Sumner, George Younce, Glen Payne, Michael Booth.

Release Date: February 23, 2018.
NQC VOLUME 17 DVD & CD SET

Each year, the National Quartet Convention draws massive crowds to Pigeon Forge, Tennessee for a spectacular celebration of Southern Gospel Music. The annual recording of the best highlights from the performances has quickly become one of the most highly anticipated releases each year! This newest installment, "NQC Volume 17," is a DVD and CD set filled with artists and songs that you're sure to know and love, recorded live on stage at the 2017 National Quartet Convention.

From the Mark Trammell Quartet's rendition of the classic Goodmans' favorite "I Wouldn't Take Nothing For My Journey Now" to 11th Hour's performance of their hit "Ain't No Bones," this DVD delights and ministers from start to finish. Enjoy seeing some of your favorite artists recorded live on stage, like the Jim Brady Trio, the Talleys, the Hoppers, the Kingdom Heirs, the Collingsworth Family, Greater Vision and more!

2017 marked the 60th Anniversary of the National Quartet Convention, and the event organizers pulled out all the stops to make it a singularly amazing week-long event. Excerpts from three NQC 60th Anniversary Reunions are included as special features on the DVD with Squire Parsons & The Kingsmen singing "Old Ship Of Zion," Gold City singing "When He Calls I'll Fly Away" and the Perrys singing "I Wish I Could Have Been There."

Relive the experience of the 2017 National Quartet Convention with these unforgettable performances captured live on DVD and CD.

(Review by Springside)