---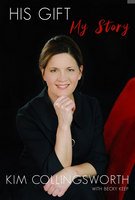 Since winning the Ovation Award's MUSICIAN OF THE YEAR in 2006, Kim Collingsworth has gone on to hold the title twelve times in various award shows. Kim has earned each award with her attention to cutting-edge arranging and superb technical execution on the piano. This, combined with her unique, God-given gift to communicate the lyrics of the songs she plays, in a deep and powerful way has impacted her audiences across the globe.
Now, in her warm and deeply personal memoir, Kim gives you an unprecedented insiders' glimpse behind the scenes. You'll travel with Kim back in time to a little country church where it all began. You'll experience with her a God-moment which would forever mark a little girl who would grow up to have a significant and powerful impact on the Kingdom of God.
Kim is honest and transparent as she shares the challenges and triumphs of growing up in a very large family with their breathtaking pace of ministry. You'll see life through the eyes of a very young Kim as she embarked on an extraordinary journey of traveling the country to share her music. She will invite you into a moment when as a thirteen-year-old, God used both her gift and her youth to make his purpose for her life exquisitely clear.
In this account you will see a rare glimpse of her husband's early life and the events and relationships that shaped his diligent pursuit of music ministry. You'll have a front row seat to a fun but unconventional courtship, as God converged two lives into one. And you will witness God's plan unfold for Phil and Kim as they pursued a lifetime of music ministry together.
Read this book and become acquainted with Kim, the homeschool mom and wife who has navigated the responsibilities of raising her family and keeping a home while also preparing musical presentations with excellence. Experience her challenges, her moments of releasing things she could not control, her watching God take over and do what only he can do.
As you read, you'll walk with Kim and Phil through the early days of ministry. Your faith will increase as you read of their struggles and lessons in reliance upon the Lord. You'll feel the excitement as you watch God open doors he alone could have opened.
We invite you to join Kim on her 50 plus year journey, as she opens up more than twenty-five years of journals, and shares wisdom she's gained amidst both the gritty and glorious moments of life. You'll read how God used his ever-present Word to guide her, strengthen her, and give her life-changing insights.
HIS GIFT…MY STORY: Powerful, impactful, riveting….a story you won't want to lay down.
Hardbound with Dust Jacket, 225 pages