---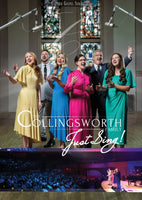 The expectant audience at Liberty University's Center For Music and Worship Arts waited with great expectation for the very first ever full-performance of all of the new repertoire from JUST SING! Enjoying a full live orchestra consisting of Liberty University students, faculty, and alumni, in addition to The CFAM's Nashville studio band ...... then add in Conductor Bradley Knight in charge ...... this audience shows their deep appreciation and unrestrained excitement for this unique opportunity to be members of the audience at this debut performance. Kyle Bates and Majestic Productions' concert lights add ambience and majesty to the digital scenes from the LED walls and environmental projection ..... making for an evening of unparalleled musical experience.
Track List
Jesus, I Give You Praise 
Then He Said, "Sing!"  
I Sing The Mighty Power/ All Hail The Power
Not One Word   
Right By Your Side  
Two Or Three  
God Leads Us Along  
He'll Find A Way   
Great Big Hands Of Jesus  
How Good   
Emma's Thank You  
I Owe You Everything   
Because Of The Blood  
We Need Another Noah
Joshua Fit 'De Battle  
Great Is His Faithfulness  
No One Ever Cared For Me Like Jesus 
That's Not The God I Know  
Ten Thousand Angels / He Looked Beyond My Fault And Saw My Need   
Amazing Grace  
How Good (Reprise)  
Release Date: November 19, 2021