---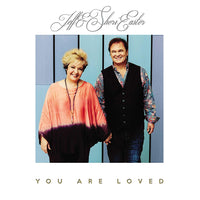 Singing down-to-earth Gospel songs about everyday life and offering encouragement through God's promises.


Song Titles:
You Are Loved
People Like Me (feat. Paul Overstreet)
Send It Own Down the Nile (feat. Monica Mathews Wilbanks)
Learning To Dance In the Rain
Sweet Hellos
The Life I'm Living
Never Been Too Sad to Sing
Heaven's Forever
Today Is A Good Day
The Road to Everywhere
Release Date: August 30, 2019.
JEFF & SHERI EASTER - You Are Loved

GRAMMY-nominated Jeff & Sheri Easter, known for their award-winning, country-tinged blends and sweet harmonies, present their newest album, "You Are Loved." On it, the group sings down-to-earth Gospel songs about everyday life and offer encouragement through God's promises to fans old and new.

Jeff & Sheri teamed up with country legend Paul Overstreet to write a new song entitled, "People Like Me." That tune, recorded on this album with an appearance by Overstreet, became the starting point for this all-new studio recording that finds the household favorite group doing what they do best. With ten songs in total, several co-written by Sheri, the album provides something special for every listener.

As one of the most recognized family groups on the Gaither Homecoming Video Series, Jeff & Sheri perform over 100 concerts per year. With five GMA Dove Awards, two Grammy nominations, and fifteen Singing News Fan Awards, along with countless other awards, they are beloved by fans like few others. Join Jeff & Sheri Easter for their newest album and its resounding message, "You Are Loved."

(Adapted from Provided Materials)