---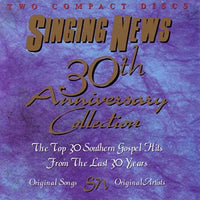 The top 30 Southern Gospel Hits from the 70s, 80s and 90s with original songs by the original artists. First released in 1999, these great classics are available once again. Unsealed.


Song Titles:
Jesus Is Coming Soon - Oak Ridge Boys
Here Comes The Rattlesnakes - Wendy Bagwell
Build My Mansion - Rambos
King Jesus - Oak Ridge Boys
When I Wake Up To Sleep No More - Inspirations
One Day At A Time - Thrasher Brothers
Learning To Lean - Blackwood Brothers
Rose Among The Thorns - Inspirations
Sail On - Imperials
Gone - Teddy Huffman & The Gems
Sweet Beulah Land - Squire Parsons
He's Still Working On Me - Hemphills
Canaanland Is Just In Sight - Heaven Bound
Step Into The Water - Cathedrals
I Think I'll Read It Again - Gold City
John Saw - Gold City
Called Out - Kingsmen
Boundless Love - Cathedrals
Midnight Cry - Gold City
Saved To the Uttermost - Speer Family
He's Still In The Fire - Speer Family
Somebody Touched The Lord - Perfect Heart
New Wine - Greater Vision
The Rose A Lamb - Gold City
Jesus Saves - Cathedrals
Jesus' Rocking Chair - Greenes
Oasis - New Hinsons
We Want America Back - Steeles
Shoutin' Time - Hoppers
My Name Is Lazarus - Greater Vision
Originally released in 1999. Now re-released.