---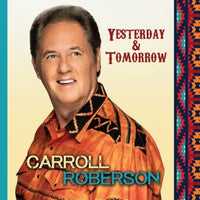 1. Yesterday When I was Young
2. One Day the Son Will Rise
3. God's Love
4. Good Mornin' Lord
5. Jesus Lives In My Heart
6. Lord I Want to Be a Christian (Donna Roberson)
7. Only One Road for Me
8. The Savior is Waiting
9. The Way We Should Live
10. I Will Lift Up Mine Eyes
11. Walk by Faith
12. Some Glad Tomorrow
Released August 26, 2020
About Carroll
From the little town of Ripley, Mississippi, the Lord has called Carroll Roberson to minister to people all over the world. After being saved by the Lord's grace at the age of twenty-eight and after the Lord brought him through a cancerous operation on his throat one year later, Carroll went into full-time ministry.
After serving two years as a pastor, he felt the Lord leading him into evangelism. Since 1987, Carroll has been preaching revivals, crusades and singing his music for our wonderful Savior to millions of people. Carroll's music has opened numerous doors over the years for him to share Jesus Christ in word and song. His music has brought him national and international success recording nearly 50 gospel albums, with 42 of those available today, and writing over two hundred songs. His music is among the most listened to in Christian music today.
His clear unique style ministers to a wide range of people from young to old and even foreign countries. His combined music sales have been well over one million. Even though he has received numerous awards and dozens of hit songs, his first love is preaching God's word. Carroll keeps the Holy Scriptures at the forefront of his ministry. He studies daily from a Hebraic perspective and has helped countless people come to a richer understanding of God's word. He feels his calling is to share the Bible with as many people as possible in this life.
Carroll and his wife Donna have guided over thirty trips to Israel, uncovering treasures from the life of Christ that have changed many people's lives. His love for the Lord and his years of study have qualified Carroll to be a servant and spokesman of God's mercy and grace. Carroll's life is evidence that God uses simple people from ordinary backgrounds for His extraordinary work. Carroll has two boys, Shane and Brandon. He and Donna attend Whittentown Baptist Church in Ripley Mississippi when they are not traveling on the road. (from www.carrollroberson.com)