---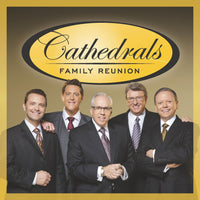 Sale
Five of today's most popular southern Gospel artists reunite to celebrate the legendary, award-winning Cathedrals. Past members Ernie, Mark, Gerald, Scott and Danny gather around the piano for this LIVE concert that pays homage to heroes George Younce and Glen Payne and to the group's unprecedented legacy.  Featuring the Cathedrals' classic hits and four-part harmonies, this recording captures all-new vocal performances, heartfelt stories and memories of an era that changed countless lives through the power of Gospel music.
Track List -
1. Bloodwashed Band
2. We Shall Be Caught Up
3. Wedding Music
4. We'll Work
5. O Come Along
6. I've Read the Back of the Book
7. Yesterday
8. Can He, Could He, Would He, Did He?
9. Oh, What a Savior
10. He Made a Change
11. Somebody Touched Me
12. Search Me, O God
13. Champion of Love
Release Date: 2013