---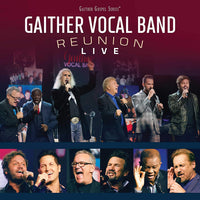 History was made when over 20 members, past and present, gathered on one stage for the first-ever LIVE concert reunion led by Bill Gaither. This two-day event featured song, inspiration and laughter from this legendary group.


Song Titles:
Alpha And Omega
Passin' The Faith Along
He Touched Me
Give Up
The Baptism of Jesse Taylor
Give It Away
Chain Breaker
Let Freedom Ring
O Love That Will Not Let Me Go
Nessun Dorma
These Are They
Amen
Sinner Saved By Grace
Make It Real / I Believe Help Thou My Unbelief
In That Great Gettin' Up Mornin'
The Trumpet Of Jesus
I Bowed On My Knees
Because He Lives
Release Date: October 25, 2019.
GAITHER VOCAL BAND - Reunion Live

History was made when over twenty members, past and present, of the Grammy Award-winning Gaither Vocal Band gathered on one stage for the first-ever live concert reunion. Both a DVD and a CD recording of the two-day event, which took place in Greenville, South Carolina, at the Bon Secours Wellness Arena in 2018, are now available. "I am so grateful to have had the opportunity of working with some of the greatest male vocalists ever in the field of Gospel music," stated Bill Gaither. "I take a lot of pride when I look at the pictures and see all that talent. What can I say? I am blessed!"

Along with Gaither, the talent featured on the new DVD and CD includes Mark Lowry, Guy Penrod, Gary McSpadden, David Phelps, Russ Taff, Jim Murray, Michael English, Lee Young, Larnelle Harris, Wes Hampton, Buddy Mullins, John Mohr, Marshall Hall, Reggie Smith, Todd Suttles, Adam Crabb, Wesley Pritchard, Gene McDonald and more. They combined their voices as never before during a weekend event of song, inspiration and laughter with reflections and devotionals given by Gloria Gaither. Award-winning musicians performing included Gordon Mote, Kevin Williams, Matthew Holt, Kevin Moore and Greg Ritchie.

Along with the tremendous talent on stage, the songs chosen are nothing short of incredible. From "He Touched Me" and "In That Great Gettin' Up Mornin'" to the recent hit "Chain Breaker," these familiar songs from familiar voices show the amazing talent featured in the Gaither Vocal Band over the years. The multiple GMA Dove and Grammy Award-winning group, which was inducted into the Gospel Music Hall Of Fame in 2014, continues to headline one of the largest tours in the Christian music industry. Join the Gaither Vocal Band past and present on the CD or DVD of "Reunion Live."

(Adapted from Provided Material)