---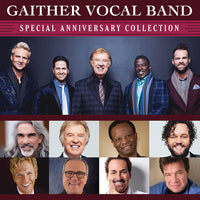 From one of the most lauded and award-winning groups in Gospel music, a collection of 17 top-selling hits from more than three decades. Includes a few live versions of songs.


Song Titles:
Give It Away
Dig A Little Deeper In God's Love
He Touched Me
Yes I Know
Mary Did You Know
Bread Upon The Water
Heartbreak Ridge and New Hope Road
The Love of God
Knowing You'll Be There
Let Freedom Ring
The Baptism of Jesse Taylor
My Journey To The Sky
It Is Finished
'Til The Storm Passes By
I Walked Today Where Jesus Walked
There's Something About That Name
I Believe In A Hill Called Mount Calvary
Release Date: August 24, 2018.