---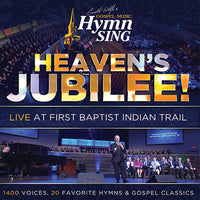 (2018 release.) Live at Indian Trail, the newest recording in a movement reviving great Gospel songs and hymns with special guest artists and audience involvement.


Song Titles:
I Am Bound For The Promise Land
Blessed Be The Name
He Leadeth Me
Heaven's Jubilee
I Rejoice In The Lord
I Must Tell Jesus
How Beautiful Heaven Must Be
Shall We Gather At The River
His Eye Is On The Sparrow
Rock of Ages
Praise Him Praise Him
More About Jesus
I Am Thine O Lord
My Jesus I Love Thee
Some Day
Jesus Paid It All
Wonderful Grace of Jesus
Pass Me Not
God Leads Us Along
We'll Understand It Better By and By
Release Date: September 26, 2018.
GERALD WOLFE'S GOSPEL MUSIC HYMN SING: Heaven's Jubilee - Live At First Baptist Indian Trail

The newest release in Gerald Wolfe's Gospel Music Hymn Sing series, "Heaven's Jubilee! Live at Indian Trail" features the great, old-style hymn singing that fans of these events have come to love. Joined by select artists, Greater Vision, Mark Trammell Quartet, Jim Brady Trio, Tribute Quartet, The Whisnants, Mylon Hayes Family, Stan Whitmire, and Sandy Payton, the Gospel Music Hymn Sings strive to preserve and promote the value of the art-form of Congregational Hymn Singing. This dynamic event is available separately in both CD and DVD.

Hosted by Gerald Wolfe, these recordings were taped live at First Baptist Indian Trail in Indian Trail, NC, and features over twenty of your favorite Gospel artists, and more than 2000 voices singing some of your all-time favorite hymns and Gospel classics. Songs like "I Am Bound For The Promised Land," "Shall We Gather At The River," "Jesus Paid It All" and "We'll Understand It Better By And By" bring back classic feelings, paired with timeless messages.

What began as a simple "sing-along," during a Gospel concert in a small Indiana theater, eventually led to the first video recording of the Gospel Music Hymn Sing series several years ago. Shortly after the release of the first DVD in the series, the Gospel Music Hymn Sing Foundation was founded by Gerald Wolfe, Jim Brady, Rodney Griffin and Mark Trammell. The Gospel Music Hymn Sing is more than just a CD or DVD, it's a movement reviving great Gospel songs and hymns and engaging the audience in the joyful sounds that only congressional singing can produce. Join Gerald Wolfe and his many friends on either CD or DVD as they lift their voices to the rafters on "Gerald Wolfe's Gospel Music Hymn Sing Heaven's Jubilee!"

(Adapted from Provided Material)