---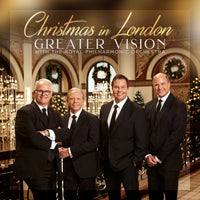 A brand-new Christmas recording, with the world-renowned Royal Philharmonic Orchestra, recorded in the world's most famous recording studio… Abbey Road Studios - Studio One!
This new recording takes you on a musical journey to Bethlehem and beyond, for the celebration of the arrival of God's greatest gift to the world… as Jesus Christ… God in flesh… comes on the scene to begin His mission of redemption.
You can sing along or just enjoy listening to Rodney, Chris, and Jon, as they sing the greatest story ever told, with fresh arrangements of familiar carols, arranged by Trey Ivey and Gerald Wolfe, with orchestrations written by Trey Ivey, played masterfully by the Royal Philharmonic Orchestra, with a surprise or two along the way.
Side A
1. Prelude (O Come, O Come Emmanuel / Carol Of The Bells / I Heard The Bells On Christmas Day)
2. Caroling, Caroling
3. O Holy Night / In The Bleak Midwinter
4. Angels From The Realms Of Glory
5. Hark, The Herald Angels Sing
6. Silent Night

Side B
7. What Child Is This
8. We Three Kings
9. O Come, All Ye Faithful / The First Noel
10. An Instrumental Meditation (Away In A Manager with Angels
11. Cherish That Name
12. Good Christian Men Rejoice
Release Date: November 1, 2023