---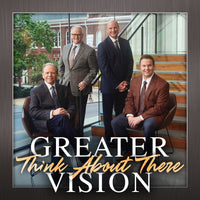 It's been almost three years since Greater Vision has released an "all new songs" project! This new recording includes 11 great songs we really believe you will love! Each song has been specifically chosen to communicate messages of promise, hope, encouragement, and Heaven!
Since December of 1990, Greater Vision has inspired audiences around the world with their rich vocal blend and their effective ability to communicate the message of the gospel.  They have established a firm place at the pinnacle of Christian music, becoming the most awarded trio in the history of Gospel music.
Gerald Wolfe, the group's founder, serves as Pianist and Emcee. Multi-Award-winning Songwriter, Rodney Griffin, sings the Lead part for the trio. Chris Allman, Gospel Music's Favorite Tenor, and also a prolific songwriter, sings Tenor. Jon Epley is the newest member of the group having joined April of 2017 as the Baritone singer. He is also a songwriter.
Track List
Think About There 
I Know A God Like That 
This Kind of Friend 
Older People 
Sittin At A Table With Lazarus 
I'll Never Break The Heart of God 
A Street of Glory 
Your Healing Is On The Way 
You Better Get On Board 
These Are They 
Someone Is Praying For You 
Release Date: September 27, 2022