---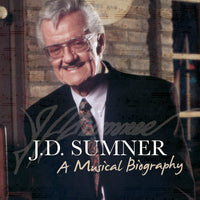 A 2-disc collection of stories and songs from JD's career.


Song Titles:
A Wonderful Life
A Taste Of Heaven
Give The World A Smile
Jesus Will Hit Like An Atom Bomb
Swing Low
Waiting For The Call
Sunshine Boys Medley (Happy Golden Shore, Joyfully I Travel On, Better Get Right)
Peace In The Valley
Where Could I Go
Press Along Cowboy
We're Gonna Ride
Blessed Assurance
These Hands
Blackwood Brothers Medley (Peace Like A River, Life's Evening Sun, I Am A Pilgrim)
The Old Country Church
There's A Light
Hide Me Rock Of Ages (Big Chief & Baby Crying)
JD Hymn Medley (In The Sweet By and By, If I Could Hear My Mother Pray Again, Precious Memories, Farther Along, Leave It There, Pass Me Not)
Rainbow of Love
The Touch Of The Master's Hand
JD's Favorite Scripture Verse (Narration)
Roll On Jordan
Walk That Lonesome Road
Sweet Sweet Spirit
His Hand In Mine
How Great Thou Art
I Can Feel The Touch Of His Hand
Master's Five Medley (Will The Circle Be Unbroken, You Oughta Been There, First Day In Heaven, A Wonderful Time Up There)
God Made A Way
Hold To God's Unchanging Hand
Lord Teach Me How To Pray
If I Can Help Somebody
God Still Lives In This Ole House
Time Has Made A Change
A Wonderful Life (Reprise)
... and many stories such as Hovie's Guinness Story, Wally Varner Story, JD The Serious Side, JD Meets Elvis, JD And Big Money and more.

Released in 2009.