---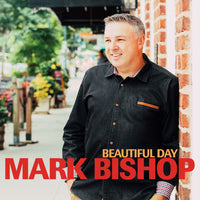 Uplifting and inspiring collection of songs that encourage people to look for the positive, trust in God and serve as a witness of His everlasting love.


Song Titles:
It's A Beautiful Day
God Needs Ministers
Are You Ready For Perfect Love?
It's All Good
I'll Just Keep Rowing
You Can't Say He Didn't Love Us
I'm Just Changing Mountains
Home Grown Tomatoes
The Man On The Other Cross
Lost Lost Lost
Release Date: November 22, 2019.
MARK BISHOP - Beautiful Day

With one of the most distinctive voices in all of Gospel Music, singer-songwriter Mark Bishop uplifts and inspires listeners on his latest album, "Beautiful Day." This recording features a collection of songs that encourages people to look for the positive, trust in God and serve as a witness of His everlasting love. "Even after all these years of creating Gospel music, I still get excited about new songs," says Bishop. "Music provides the background soundtrack for the ups and downs of our lives. As we look back at the different chapters of our journey, it's funny how a song can transport us to a simpler time, or to a profound change in our lives. It's also amazing how God can use a song like a medicine for our hearts when we are hurting."

Bishop begins the album with these themes on "It's A Beautiful Day," an upbeat and bright song about not letting the gloomy days get you down and allowing God's joy and light to shine through you for everyone to see. This theme is continued in "It's All Good," which reminds us it's always possible to find happiness when Jesus is in our hearts. Bishop praises God for His everlasting love on "Are You Ready For Perfect Love," which features a guest appearance from 11th Hour's Amber Eppinette on vocals. "You Can't Say He Didn't Love Us," explains how the cross proves what the Lord is willing to do while "The Man On The Other Cross" continues the story of Christ's death, explaining how one man next to him was redeemed, while the other died without knowing God's mercy.

Bishop says, "For the past 35 years, God has blessed me to participate in the creation of music with some of the most talented singers, musicians, and producers in our field. For this, I feel blessed. They certainly challenge me to work hard and give it my all. This new album, Beautiful Day is no different. Our team has spent many hours making sure the messages in these ten new songs are impactful, exciting, and moving. We hope you will take this musical journey with us through the ups and downs of life, through unique perspectives on familiar scriptures, and through the exaltation that we feel when we leave that valley behind to stand upon a new mountain." Join Mark Bishop for these bold new songs on "Beautiful Day."

(Adapted from Provided Material)