---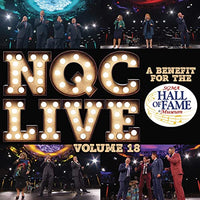 Live recordings from the 2018 National Quartet Convention in Pigeon Forge, TN. The record company's net profits from the sale of this item will be donated to the work of the SGMA Hall Of Fame. Includes bonus DVD features such as "Laughing With Dennis Swanberg" and "SGMA Hall Of Fame Inductions."


Song Titles:
Clear Skies – Ernie Haase & Signature Sound
I Know – Mark Trammell Quartet
He's Never Moved – Whisnants
Cost of The Cross – Kingsmen
There Is Jesus – McKameys
Wedding Music – Second Half Quartet
This Flight That is Leaving Soon – Jeff & Sheri Easter
Testimony Time – Down East Boys
After The Storm – Erwins
Thankful So Thankful – Triumphant
Old Church Choir – Ball Brothers
He Welcomes The Beggar – 11th Hour
I'll Trust You With Tomorrow – Kingdom Heirs
Like Jesus Did – Three Bridges
Those Same Hands – Gold City
God Fights On My Side – Guardians
After All This Time – Talleys
Moses and Elijah – Perrys
You Better Get Right (Or Ya Gonna Get Left) – Jordan Family Band
Begin With You – Wisecarvers
It's His Story – Endless Highway
Release Date: February 22, 2019.
NQC LIVE Volume 18

The National Quartet Convention, held each year in Pigeon Forge, Tennessee, is the biggest annual gathering of today's top Southern Gospel groups. Gathering at its famed main stage, audiences are thrilled by the sights, the sounds and the spectacle of these amazing singers and musicians as they present the Gospel through song.

"NQC LIVE Volume 18" features live recordings from the 2018 National Quartet Convention featuring some of today's top Southern Gospel groups. Among them are songs that reached the number one spot on the charts like Ernie Haase & Signature Sound's "Clear Skies," Triumphant Quartet's "Thankful, So Thankful" and 11th Hour's "He Welcomes The Beggar." Other fan favorites are provided from the Mark Trammell Quartet, the Whisnants, the Kingsmen, the McKameys, Second Half Quartet, Jeff & Sheri Easter, the Down East Boys, the Erwins, the Ball Brothers, the Kingdom Heirs, Three Bridges, Gold City, the Guardians, the Talleys, the Perrys, the Jordan Family Band, the Wisecarvers and Endless Highway.

After almost 20 years of working together, Crossroads and NQC have partnered again for the release of "NQC LIVE Volume 18," which will now serve as a benefit album for the Southern Gospel Music Association Hall of Fame. Proceeds from purchasing this album go to support the hall, operated by SGMA, and its mission of recognizing distinguished individuals in the field and permanently enshrining them with a plaque bearing their picture and list of accomplishments. The museum in Pigeon Forge, Tennessee, welcomes more than one million visitors annually to read and observe displays and memorabilia from a century of Gospel music.

Were you at the 2018 National Quartet Convention? Experience it again! Couldn't make it to Pigeon Forge this year? Enjoy the best of the show from the comfort of your own home. Join your favorite Southern Gospel artists on stage again with "NQC LIVE Volume 18."

(Adapted from Provided Materials)